Aeryon Partners with Persistent Systems LLC to Integrate Aeryon SkyRanger with the Wave Relay Network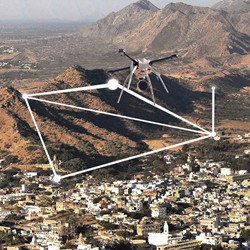 May 4, 2016
Aeryon SkyRanger sUAS delivers integrated Wave Relay® networking technology, enabling extended range UAS operations, real-time sharing of video, and beyond-line-of-sight network coverage to ground-based personnel.
New Orleans, LA (PRWEB) – Aeryon, the leader in small unmanned aerial systems (sUAS), and Persistent Systems, LLC ("Persistent Systems"), the leader in Mobile Ad hoc Network (MANET) technology and developers of the Wave Relay® system, today announced the integration of Wave Relay® technology into the airframe of the Aeryon SkyRanger sUAS. This integration will enable Command and Control (C2) and video downlinks from the sUAS into a Wave Relay® MANET.
Traditionally, sUAS operators have relied on WiFi (or similar) networking standards to deliver line-of-sight connections from ground control station (GCS) to aircraft. With Wave Relay® now integrated, the Aeryon SkyRanger offers a powerful set of new capabilities to Military, Public Safety, and Commercial UAV operators, including:
Eliminating the need for a dedicated base station to provide the wireless link from the operator to the aircraft. This enables operators to deploy more flexibly and with less equipment.
Operating the aircraft as a relay node within the MANET, enabling an "over the hill" communications link between ground-based personnel who would otherwise be out of radio contact, to a range of 15 mi (24 km) between the ground-based teams.
Extending the operational range of the aircraft to the maximum range of the MANET.
Permitting all personnel within the MANET to view the video and telemetry feeds from the aircraft.
"Our partnership with Persistent Systems will bring significant benefits to our mutual customers and help them to do their jobs more safely and efficiently", said Dave Kroetsch, President and CEO, Aeryon Labs.
Dr. Herbert Rubens, CEO of Persistent Systems, offered a similar perspective, "Persistent Systems and Aeryon share a deep engineering heritage and a commitment to deliver to our customers, in all sectors, flexible and robust networking solutions. We are confident that this collaboration will bring a unique, best-of-breed solution to market."