For all technical support including firmware updates, configuration and troubleshooting of Wave Relay equipment, please open a ticket through our Tech Support Web Portal or please call the technical support line 646-627-8195.
Current Firmware Versions
Firmware: 19.4.0
Products Supported: MPU5, Embedded Module, Dual PTT
Device Firmware: 18.5.8
Heritage Products Supported: MPU4, MPU3, Quad Radio Router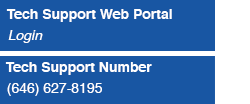 For warranty repairs or hardware related issues for radios to be returned to Persistent Systems to be repaired send an email with the serial number of the radio and problem description. Serial Number can be found on the back of the radio equipment after the field labeled S/N.