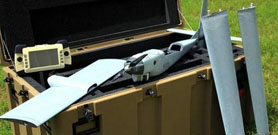 October 17, 2014
New York, NY – Small, portable drones can be tricky to launch, as shown in the famous YouTube video of U.S. Marines repeatedly failing to get an AeroVironment RQ-11B Raven off the ground. However, Stark Aerospace, an Israel Aerospace Industries company based in Columbus, Miss., has a new unmanned aerial vehicle, which company officials say can be launched while the operator is prone and in crosswinds of up to 15 knots.
Displayed at this week's Association of the U.S. Army expo in Washington, D.C., the ArrowLite unmanned aerial vehicle weighs 6.3 lbs., with a wingspan of 98 inches. Currently, 39 of these aircraft are undergoing operational evaluation with unnamed U.S. military and Department of Defense users, said Bradley Pufpaff, president of Stark Defense Services, a division of Stark Aerospace.
A major selling point of the ArrowLite is its ease of use and deployment, Pufpaff said. The UAV fits in a single oversized waterproof backpack. "The wings go into three pieces. The tail actually comes off and is collapsible," he said. "The vehicle can be pulled out of the package and assembled within 90 seconds and launched without the ground control station being on."
The operator has time to fire up the ground control station once the UAV is in the air.
The vehicle can be launched and flown in unfavorable conditions. "We've launched this while lying flat on the ground or our knees, and in crosswinds. We've actually launched in 15 knot crosswinds," Pufpaff said. "We fly in up 30 knot winds at altitude. We can land in crosswind, up to 15 to 20 knots."
The ArrowLite carries a 220-gram 10-megapixel daytime camera, an uncooled long-wave IR sensor and an 850 nanometer laser illuminator. The laser, said Pufpaff, is not a fine point beam, but it can illuminate a vehicle or a group of people. The UAV also employs a Wave Relay mobile ad hoc network radio for command and control – the radio actually serves as a communications relay for voice and video as well as a Blue Force Tracker for everyone sharing the same network.
The Combatting Terrorism Technical Support Office awarded Stark Aerospace a contract in March 2013 to develop and test the ArrowLite. This operational evaluation is expected to wrap up next spring or summer. In the meantime, the Stark Defense Services team has been getting feedback from military users that will be incorporated in an upcoming Block 2 version.
One issue has been endurance: users want to see ArrowLite to go beyond its current two hours and 45 minutes. So, for the Block 2, Stark Aerospace has been looking at solar paneled-wings and new battery technologies. "We are looking to take it to three hours, maybe three and a half hours," he said.