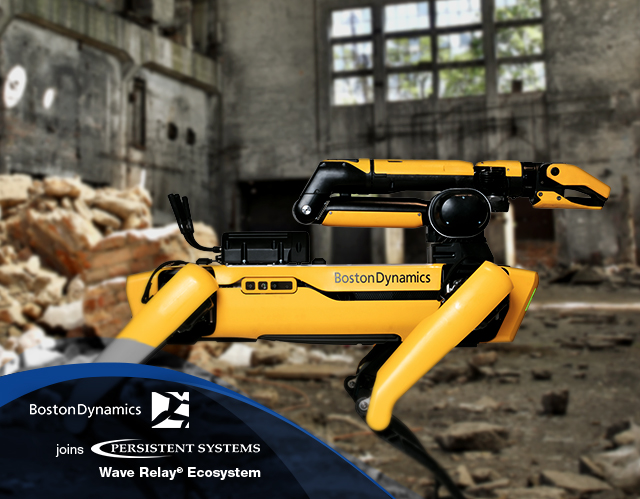 January 17, 2023
Persistent Systems networking devices to be sold with robots intended for defense, public safety applications
Spot® quadruped robot equipped with the Persistent Systems MPU5 is well suited to keep responding teams out of harm's way during a wide range of potentially hazardous environments and situations
Persistent Systems, LLC ("Persistent"), a leader in mobile ad hoc networking (MANET) technology, announced today that mobile robotics company Boston Dynamics has joined Persistent's Wave Relay® Ecosystem.
The Ecosystem is an industry alliance of unmanned system and sensor producers all using the Wave Relay® MANET as their preferred network for command-and-control and communications. As part of its agreement with Boston Dynamics, Persistent will supply the MANET devices used on robots sold to defense, public safety, law enforcement and U.S. federal government customers.
"We are excited to have Boston Dynamics join our Ecosystem," said Jeremy Hickman, Director of Business Development for Persistent Systems. "We believe that our MANET technology will provide their robots with a high-performance solution that is robust, reliable and scalable—and also enables interoperability with third-party unmanned and sensor platforms."
Boston Dynamics officials noted that they see the new Ecosystem agreement with Persistent Systems as a way of better positioning the company's robotic quadruped Spot for industries requiring dedicated, secure communications networks in remote environments.
"We see Spot, operating on a Persistent Systems MANET, being used in many different applications, including subterranean or confined space exploration, unexploded ordnance inspection, suspicious package investigation, hazardous gas detection, search and rescue, and structural inspection," said Kimberly Chamblin, Director of Partnerships, Public Sector, at Boston Dynamics.
In addition to MANET hardware being physically integrated with Boston Dynamics robots, robotic command-and-control software will be loaded onto Persistent Systems devices so that users can control them via the Persistent Systems Remote Display and Controller (RDC).
"So, not only will you be able to stream sensor data collected by Spot, but you will also be able to control its movement with the RDC," Hickman said. "This configuration both empowers the users and reduces the need for each unmanned system to have its own unique controller."
For more information about Persistent's MANET solutions, visit our website: https://www.persistentsystems.com.
About Persistent Systems, LLC
Headquartered in New York City since 2007, Persistent Systems, LLC is a global communications technology company that develops and manufactures a patented and secure Mobile Ad hoc Networking (MANET) system: Wave Relay®. Wave Relay® transmits and receives data, video, voice and other applications under the most difficult conditions. Their suite of products is utilized in Commercial, Military, Government, Industrial, Agriculture, Robotics, and Unmanned Systems markets. Please visit https://www.persistentsystems.com to learn more. Follow Persistent Systems on Twitter to get updates on the latest developments @pswaverelay.