CANSEC News: Persistent Systems signs authorized integrator agreement with KWESST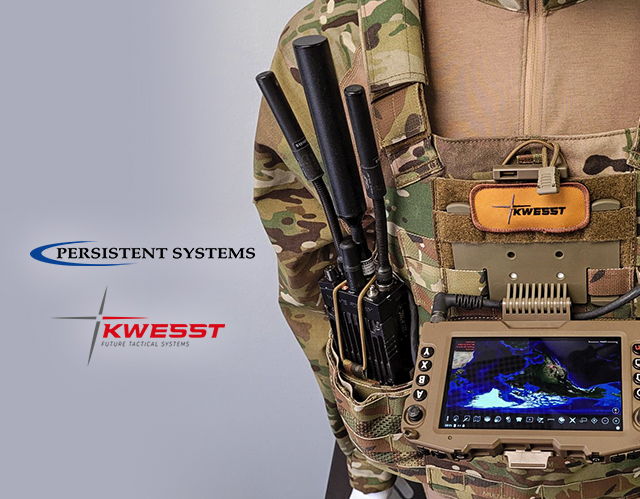 May 31, 2022
Company to support Ottawa-based partner at Canadian Defence and Security Trade Show
NEW YORK, N.Y. — Persistent Systems LLC ("Persistent"), a leader in mobile ad hoc networking (MANET), announced today it has signed an agreement with KWESST Micro Systems Inc., making the Ottawa-based product commercialization company an authorized integrator for Persistent's MANET solutions.
Persistent will also support its new Canadian partner at the CANSEC Canadian Defence and Security Trade Show, held in Ottawa's EY Centre on June 1-2.
"The Canadian military is prioritizing increased digitization and interoperability for its tactical communications devices and sensors," said Ryan Kowalske, VP of Business Development at Persistent Systems, "and this new authorized integrator agreement with KWESST will help Canada meet those demands."
Persistent Systems produces the MPU5, a handheld MANET device that enables those at the tip of the spear to share voice, video, text, GPS, and sensor data in a true peer-to-peer fashion– without the need for external communications infrastructure or a vulnerable hub.
Besides tethering with legacy third-party radios, the MPU5 can also play host to unmanned system command-and-control software, which can be accessed, along with video streams and the Team Awareness Kit (TAK) mapping app, on Persistent's Rugged Display Controller.
"As part of the agreement, KWESST will be able to develop all-new TAK-specific plug-ins for the MPU5, putting new advanced sensors and capabilities onto the MANET," said Rick Bowes, VP of Operations at KWESST Micro Systems. "This will be a major technological boon both for Department of National Defence and the Royal Canadian Mounted Police."
KWESST's integrated digital applications for military and public safety customers—enabled by Persistent Systems solutions–will also be showcased at the upcoming CANSEC Canadian Defence and Security Trade Show (Booth No.4035).
"We are very excited about our partnership and see it develop further," said Eve Shapiro, Director of Business Development for Persistent.
About Persistent Systems, LLC
Headquartered in New York City since 2007, Persistent Systems, LLC is a global communications technology company that develops and manufactures a patented and secure Mobile Ad hoc Networking (MANET) system: Wave Relay®. Wave Relay® transmits and receives data, video, voice and other applications under the most difficult conditions. Their suite of products is utilized in Commercial, Military, Government, Industrial, Agriculture, Robotics, and Unmanned Systems markets. Please visit https://www.persistentsystems.com to learn more. Follow Persistent Systems on Twitter to get updates on the latest developments @pswaverelay.
About KWESST Micro Systems
KWESST (TSXV: KWE) (OTCQB: KWEMF) (FSE: 62U) commercializes breakthrough next-generation tactical systems for military and security forces and personal defense. The company's current portfolio of unique proprietary offerings includes non-lethal systems (PARA OPSTM and ARWENTM) with application across all segments of the non-lethal market, including law enforcement and personal defence. KWESST also facilitates digitization of tactical forces with its signature TASCS system for real-time awareness and targeting information from any source (including drones) streamed directly to users' smart devices and indirect fire weapons. Other KWESST products include counter-measures against threats such as drones, lasers and electronic detection. These include: the PhantomTM electronic battlefield deception system to mask the electromagnetic signature of friendly forces with decoy signatures at false locations that deceive and confuse adversaries; a Battlefield Laser Detection System to counter the emerging threat of laser targeting of personnel; and, a non-kinetic system to counter the threat of tactical drones. These systems can operate stand-alone or integrate seamlessly with third-party OEM products and networked battlefield management systems such as ATAK. The Company is headquartered in Ottawa, Canada, with operations in Stafford, VA and representative offices in London, UK and Abu Dhabi, UAE.
For more information, please visit https://kwesst.com/