Endeavor Robotics Partners with Persistent Systems to Integrate MPU5 Radios onto Battle-Proven Family of Robots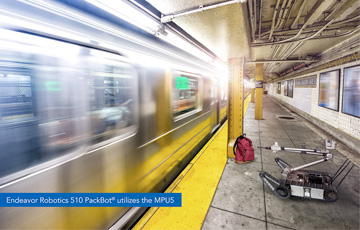 July 3, 2016
Leading Robotics provider integrating cutting edge radio communications to provide greatly enhanced and battle-proven capabilities to the US Warfighter
Bedform, MA /PRNewswire/ — Endeavor Robotics, the leading U.S.-based ground robotics company focused on the defense, public safety, and industrial markets, and Persistent Systems, LLC, the leader in Mobile Ad hoc Network Technology (MANET) and developers of the Wave Relay® system, today announced an agreement to integrate the MPU5, a robust communication system, into Endeavor Robotics' family of battle-proven ground robots. The integration of the Wave Relay® network with Endeavor Robotics robots is a force multiplier for our warfighters by significantly increasing the distance of unmanned ground operations and enabling operators to control or observe multiple robot assets through a common controller interface over the Wave Relay® MANET.
The first generation of tactical robots utilized limited range point-to-point radios constrained by frequency, transmit power and nominal mesh capabilities. Both robot systems and radio technology have evolved to enable greater capabilities and more secure  and expandable communications between single systems or networks of down range systems. With the integration of advanced radio solutions such as Persistent Systems' Wave Relay® MANET technology, operators of Endeavor robots will improve their capabilities by:
Increasing operational range in urban areas and other radio-challenged environments by utilizing the MANET to establish and relay communications between multiple robots
Providing operators and supporting personnel views of real-time video and telemetry feeds from all robots within the MANET
Allowing operators to easily switch frequencies, power, and other radio settings in the field
Enabling a more secure network and protecting information through advanced cyber-security protocols
Uniting Endeavor robots with ground personnel via the Wave Relay® MANET to form a massively scalable communications network
"The strategic partnership with available cutting-edge and proven technology providers such as Persistent Systems enables us to provide the warfighter needed technologies to operate more safely and with greater success. We are excited to work closely with Persistent Systems to provide the robotic solutions the warfighter demands and the advanced communications networks that provide the greatest reliability," said Tom Frost, President of Endeavor Robotics.
Dr. Herbert Rubens, CEO of Persistent Systems, offered a similar perspective. "Our partnership with Endeavor Robotics represents a huge step towards the future where the battlefield is fully networked. Networked connectivity between the warfighter and all of the unmanned systems and sensors will significantly increase situational awareness. Our unique and powerful MANET network will extend the operation and use of Endeavor's battle-proven family of robots to empower warfighters with information, allowing them to make better decisions and increase mission success."
About Endeavor Robotics
Endeavor Robotics brings an established leadership team with decades of experience in the mobile robot industry, the best roboticists who collaborate with end-users to develop robots for worldwide markets, and veteran field service engineers who keep you in the fight. For more than 15 years, with deployments worldwide, operations in areas of conflict and in response to natural disasters, Endeavor Robotics has specialized in delivering battle-hardened and adaptable robotics. We are committed to working with industry leaders and government partners to deliver innovative, reliable and the easiest to operate robot solutions.  Our family of robots includes 5-lb FirstLook, less than 20-lb SUGV, man-portable PackBot, and heavy-duty Kobra. To date, we have delivered more than 6,000 robots worldwide.
Please visit www.endeavorrobotics.com  to learn more.
About Persistent Systems, LLC
Headquartered in New York City since 2007, Persistent Systems, LLC is a global communications technology company which develops, manufactures and integrates a patented and secure Mobile Ad Hoc Networking (MANET) system: Wave Relay®. The company's industry leading R&D team has designed wireless networking protocols to support their cutting edge Wave Relay® system and technology. Wave Relay® is capable of running data, video, voice and other applications under the most difficult and unpredictable conditions. Their suite of products is field proven and utilized in Commercial, Military, Government, Industrial, Agriculture,  Robotics, and Unmanned System markets.
Please visit https://www.persistentsystems.com to learn more. Follow Persistent Systems on Twitter to get updates on the latest developments @pswaverelay.