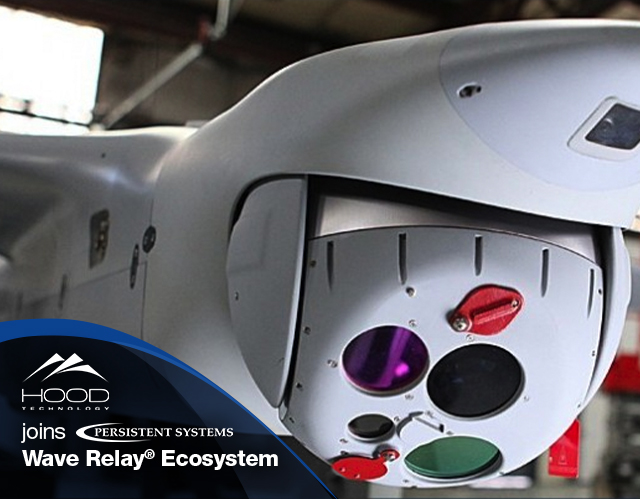 March 21, 2023
Company will be first camera manufacturer to join industry alliance of Wave Relay® mobile ad hoc network partners
Persistent Systems, LLC ("Persistent"), a leader in mobile ad hoc networking (MANET), announced today that Oregon-based Hood Technology Corporation ("Hood Tech"), which develops gimbaled cameras for small unmanned aircraft systems (UAS), has joined Persistent's Wave Relay® Ecosystem.
The Ecosystem is an industry alliance of UAS, unmanned ground vehicles (UGV), sensor, and camera manufacturers all utilizing Persistent's Wave Relay® MANET as their preferred network for command-and-control and communications functions. The Hood Tech Vision division of Hood Tech will be the first camera manufacturer to join the Wave Relay® Ecosystem.
"Warfighters deserve the best possible user experience from their combat systems," said Jeremy Hickman, Director of Business Development for Persistent Systems. "By collaborating with Hood Tech, we can ensure that the systems work in harmony; delivering full motion video, camera control, and KLV metadata, to the dismounted warfighter."
In addition, by closely working with Persistent, Hood Tech furthers the company's Next-Generation ISR concept. This new approach to air-ground video connectivity networks warfighters with aircraft and onboard sensors, greatly speeding up the tempo of combat.
By collaborating with the Hood Tech Aero division, Persistent will leverage their manned ISR aviation division to demonstrate the future of ISR full-motion video, putting the capability and control back in the hands of the dismounted warfighter.
"We chose to be part of the Persistent Systems Ecosystem because Wave Relay® has proven to be such a reliable datalink," Brian Prange, VP of Hood Tech. "By joining the Ecosystem, we lower barriers between the two companies, allowing us both to improve efficiency, and provide greater value to customers requiring the installation of Persistent's MPU5 networking radio on aircraft."
As the next step in their relationship, Hood Tech and Persistent will be pursuing opportunities in defense, traffic, forestry, and firefighting markets, say Persistent company officials.
About Persistent Systems, LLC
Headquartered in New York City since 2007, Persistent Systems, LLC is a global communications technology company that develops and manufactures a patented and secure Mobile Ad hoc Networking (MANET) system: Wave Relay®. Wave Relay® transmits and receives data, video, voice, and other applications under the most difficult conditions. Their suite of products is utilized in Commercial, Military, Government, Industrial, Robotics, and Unmanned Systems markets.
About Hood Technology Corporation
The Hood Technology Corporation is an engineering-oriented company headquartered in Hood River, Oregon, USA. The Hood Technology Corporation is specialized in stabilized camera turrets used principally on manned and unmanned aircraft, development and distribution of infrared imagers, launch catapults for unmanned aircraft, and monitoring of blade and rotor health within operating turbomachinery. Hood Tech's flight service provider has worked closely with Persistent Systems with a dedication to "Innovative Aviation Solutions.