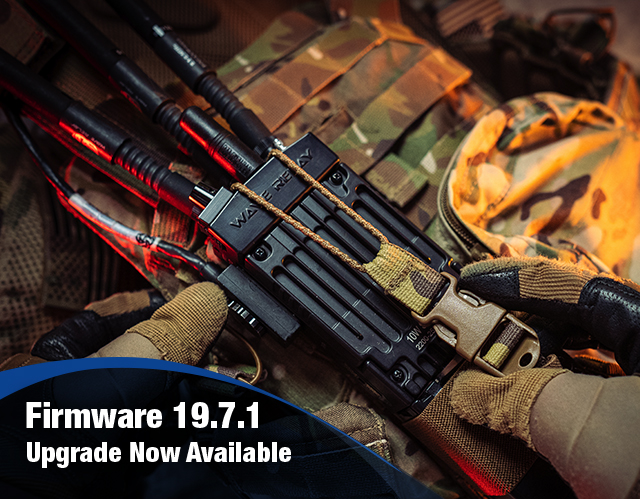 June 13, 2023
Firmware increases throughput of MPU5 and hardens network against electronic attack
Persistent Systems, LLC ("Persistent"), a leader in mobile ad hoc networking (MANET), announced today that the company has rolled out its free 19.7.1 firmware upgrade for customers of the handheld MPU5 networked radio and other Wave Relay® MANET products.
The new 19.7.1 firmware adds Artificial Intelligence (AI) to the Wave Relay® MANET, allowing it to rapidly adapt radio parameters to maximize network throughput. The reinforcement learning algorithm continuously adapts modulation selection, coding rates, spatial streams, and other RF parameters, selecting from thousands of permutations. The algorithm receives an "award" as the capacity of the link increases.
"With this firmware update, our MANET products deliver the maximum network capacity to our end-users," said Sam Pera, director of Sales Engineering for Persistent Systems. "This means more voice, video, and data – delivering increased situational awareness to the warfighter."
The upgrade also expands the library of electronic warfare (EW) countermeasures that can be employed by the MPU5 when operating in congested or contested environments.
"The fusion of EW countermeasures with AI based adaptation creates an extremely robust, market leading capability," Pera noted. "Delivering a system that continuously adapts in contested RF environments to maximize performance."
The new 19.7.1 firmware also enables the auto-discovery of video camera feeds on the Wave Relay® network, supports pan, tilt, zoom control of FLIR camera gimbals, and embeds KLV metadata into the MPEG video stream.
The MPU5's Android operating system has also been upgraded several generations improving both security and application performance. Indeed, company officials describe 19.7.1 as a "significant upgrade"—one that was years in the making and supported by the law enforcement, intelligence, and special operations communities.
"They were all beta testers of the new 19.7.1 firmware," said Pera. "We incorporated their suggestions and received extremely positive feedback with regard to the performance improvements."
The new 19.7.1 firmware is available now for download in the Customer Support Portal.
About Persistent Systems, LLC
Headquartered in New York City since 2007, Persistent Systems, LLC is a global communications technology company that develops and manufactures a patented and secure Mobile Ad hoc Networking (MANET) system: Wave Relay®. Wave Relay® transmits and receives data, video, voice and other applications under the most difficult conditions. Their suite of products is utilized in Commercial, Military, Government, Industrial, Robotics, and Unmanned Systems markets.