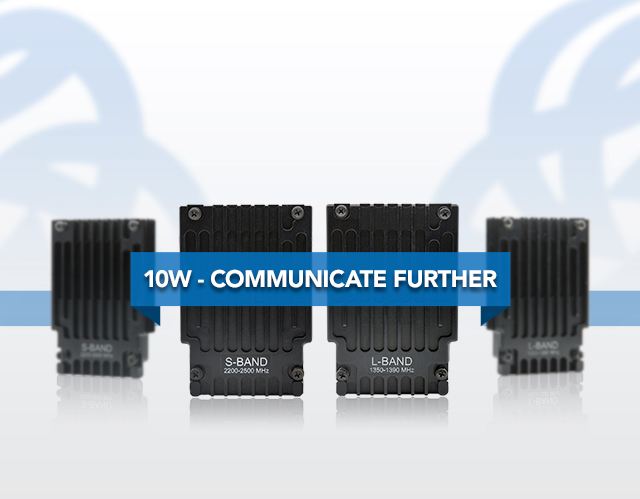 May 22, 2018
Higher transmit power delivers increased range and performance
NEW YORK, N.Y.— Persistent Systems, LLC ("Persistent") announced today that it has released new 10W versions of its S-Band and L-Band RF modules. The new RF modules leverage cutting edge advancements in power amplifier technology, delivering increased output power and greater power efficiency. The RF modules also implement a more advanced RF filtering architecture providing increased noise immunity in congested and contested RF environments.
"We have taken everything we have learned and every new advancement in power amplifier and filtering technology and completely redesigned our S-Band and L-Band RF modules. Our customers value every bit of range and performance, and these modules truly deliver," said Eric Stern, Director of Engineering at Persistent.
Solid state radio technology is improving at an unprecedented pace with every new advancement in the commercial wireless world. Persistent specifically designed the MPU5 architecture to be modular and upgradable, so that customers can take advantage of these advancements without needing to purchase a whole new system. The new 10W RF modules represent the first RF module upgrades to the MPU5 system.
For a limited time, Persistent is enabling customers to trade in their existing S-Band and L-Band RF modules and purchase new 10W versions at a significantly reduced cost.
"We expect our customers to achieve many years of service from their MPU5 radios. These upgrades demonstrate our commitment to the MPU5 platform, ensuring that it exceeds our customers' requirements over the years to come," said Leslie Hulser, Director of Programs at Persistent.
For more information on purchasing or upgrading your existing MPU5 radios, please reach out to your Persistent account representative.
About Persistent Systems, LLC
Headquartered in New York City since 2007, Persistent Systems, LLC is a global communications technology company that develops and manufactures a patented and secure Mobile Ad hoc Networking (MANET) system: Wave Relay®. Wave Relay® transmits and receives data, video, voice and other applications under the most difficult conditions. Their suite of products is utilized in Commercial, Military, Government, Industrial, Agriculture, Robotics, and Unmanned Systems markets. Please visit https://www.persistentsystems.com to learn more. Follow Persistent Systems on Twitter to get updates on the latest developments @pswaverelay.