Persistent Systems Announces Grand Opening of Fort Collins Office Expansion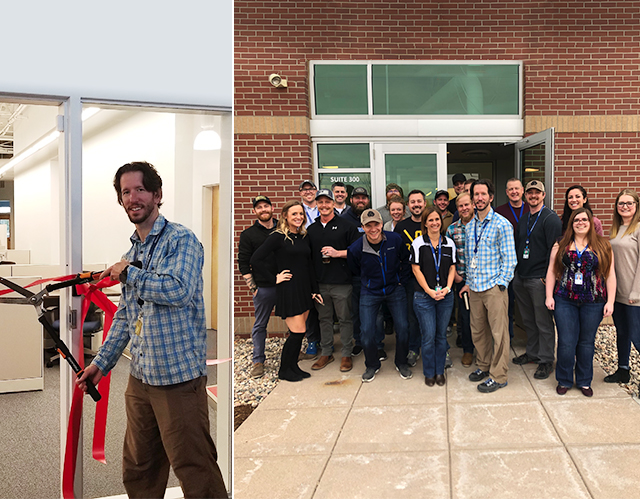 March 6, 2019
New office space in Fort Collins to support continued growth for MANET company

FORT COLLINS, Colo. – Persistent Systems, LLC ("Persistent") announced today that it completed a major expansion of its Fort Collins office, in Colorado.
Persistent specializes in mobile ad hoc networking (MANET) technology and ancillary services for military, federal, first responder, unmanned system and live event broadcast customers.
"We have customers in a wide variety of markets," said Adrien Robenhymer, VP of Business Development at Persistent Systems. "Due to increased demand for the Wave Relay® MANET and associated hardware in areas such as Artificial Intelligence, Cyber Operations, Autonomous Systems, and Command, Control, Computers, Communication, Intelligence, Surveillance and Reconnaissance (C4ISR), we've needed to grow our Colorado team."
The expanded office more than triples the footprint of the existing office at 5042 Technology Pkwy, in Fort Collins, and will grow the employee count to some 65 people.
"It is an exciting time for us to watch the team grow as we rapidly take on more programs and projects. The additional space adds a state-of-the-art training facility, System Integration Labs, a Network Operation Center and collaboration spaces," Robenhymer said.
The expansion provides greater capacity for the increased system engineering, contracting, field support, project management, government and commercial applications developing in the region.
The space is in a rapidly growing technical sector of northern Colorado. With neighbors like Intel, HP, AMD, and Broadcom, the area mixes a top technical hub with an outdoorsy, family-friendly, and craft beer environment.
For information on the many open positions at Persistent's Fort Collins, CO office location, please visit www.persistentsystems.com/careers.
About Persistent Systems, LLC
Headquartered in New York City since 2007, Persistent Systems, LLC is a global communications technology company that develops and manufactures a patented and secure Mobile Ad hoc Networking (MANET) system: Wave Relay®. Wave Relay® transmits and receives data, video, voice and other applications under the most difficult conditions. Their suite of products is utilized in Commercial, Military, Government, Industrial, Agriculture, Robotics, and Unmanned Systems markets. Please visit https://www.persistentsystems.com to learn more. Follow Persistent Systems on Twitter to get updates on the latest developments @pswaverelay.