Persistent Systems delivering thousands of networking radios to QinetiQ US in support of U.S. Army's robot program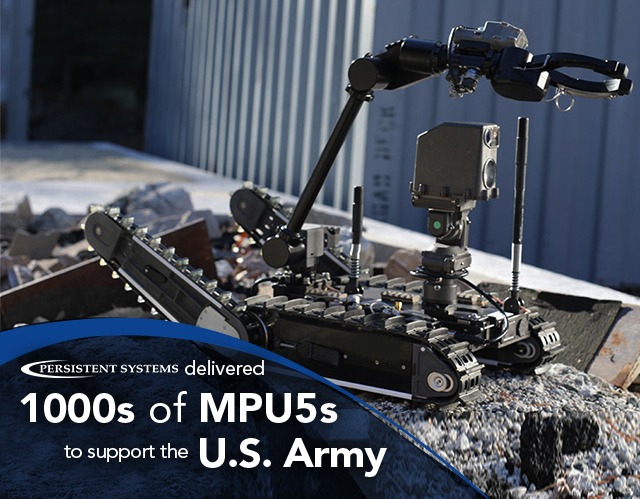 July 27, 2022
Persistent Systems, QinetiQ US collaborate on ongoing Common Robotic System – Individual, or CRS(I), program
Persistent Systems, QinetiQ US also renew Wave Relay® Ecosystem industry partnership for another five years
NEW YORK, N.Y. — Persistent Systems, LLC ("Persistent") a leader in mobile ad hoc networking (MANET), announced that it has received additional orders from QinetiQ US to provide thousands of MPU5 MANET devices in support of the U.S. Army's Common Robotic System – Individual, or CRS (I), program.
CRS (I) is the Army's continuing effort to provide dismounted troops with a lightweight, highly mobile unmanned ground vehicle (UGV) to conduct reconnaissance, surveillance, and target acquisition. In 2019, QinetiQ was selected to provide its SPUR platform for CRS(I). Persistent Systems, in turn, supplies the communications and command-and-control element of the UGV.
"The MPU5's robust, low-latency networking capability allows the operator of the SPUR platform to send commands to the UGV as well as receive video and other sensor data back, which can also be shared with everyone else on the network," said Nick Naioti, VP for Business Development for Persistent. "To date, Persistent Systems has supplied hundreds of radios for CRS(I) and we are just entering full-rate production for the program."
The company's new, state-of-the-art production facilities will meet the increased demand as well as those of other programs, he added.
QinetiQ US renews partnership with Persistent Systems
In addition to the CRS(I) orders, QinetiQ US is renewing for another five years its partnership in the Wave Relay® Ecosystem, an industry alliance of sensor, UGV, and unmanned aircraft contractors all using Persistent's MANET as their default network. Ecosystem partners enjoy such benefits as competitive pricing, on-site expert training, product integration support, and access to the Persistent technology roadmap.
During last the five years, Persistent Systems collaborated closely with QinetiQ US. Besides supporting QinetiQ US in its early CRS(I) deliveries, Persistent has helped its Ecosystem partner on the Tactical Adaptable Light Ordnance Neutralization (TALON) family of robotic systems for the U.S. Army, providing an upgraded communications package for the UGVs.
The two companies have, as Ecosystem collaborators, won some $500 million worth of business. "We are excited to extend our partnership with QinetiQ US," Naioti said, "and look forward to backing the company on future initiatives."
About Persistent Systems, LLC
Headquartered in New York City since 2007, Persistent Systems, LLC is a global communications technology company that develops and manufactures a patented and secure Mobile Ad hoc Networking (MANET) system: Wave Relay®. Wave Relay® transmits and receives data, video, voice and other applications under the most difficult conditions. Their suite of products is utilized in Commercial, Military, Government, Industrial, Agriculture, Robotics, and Unmanned Systems markets. Please visit https://www.persistentsystems.com to learn more. Follow Persistent Systems on Twitter to get updates on the latest developments @pswaverelay.
About QinetiQ US
QinetiQ US is a leading defense and security company in the United States providing mission-led innovation at pace. We support our customers worldwide with mission-critical solutions to create, test, and use the latest technologies to deliver real world advantage. QinetiQ US operates as the U.S. arm of QinetiQ Group PLC (QQ.LSE), a global integrated defense and security company focused on innovation for defense, security and civil customers around the world. QinetiQ's U.S. employees are based predominantly in Virginia and Massachusetts and operate under a Special Security Agreement (SSA) with the U.S. Defense Counterintelligence & Security Agency (DCSA). We are creating new ways of protecting what matters most; testing technologies, systems, and processes to make sure they work as expected; and enabling customers to deploy new and enhanced-existing capabilities with the assurance they will deliver the outcomes required. Please visit our website at https://www.qinetiq.com/en-us/ and follow us on LinkedIn, Twitter, and Facebook @QinetiQUS.