Persistent Systems exhibiting networking Dismount Kit at Modern Day Marine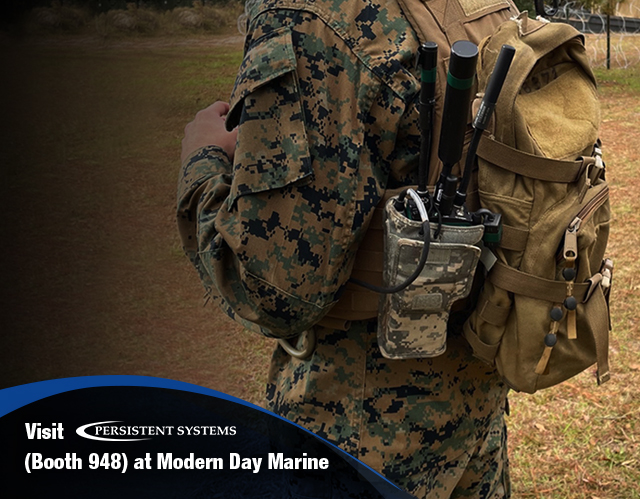 June 22, 2023
Company has been testing its communications solutions with U.S. Marine operating forces units
Persistent Systems ("Persistent"), a leader in mobile ad hoc networking (MANET) technology, announced today that the company will be exhibiting its Dismount Kit at the Modern Day Marine expo, held in Washington, DC, on June 27-29.
The company's exhibition of MANET equipment for Marine Corps units comes just 6 weeks after Persistent Systems participated in exercise Northern Edge 23, in which its Dismount Kit successfully supported 5th Air Naval Gunfire Liaison Company conducting notional Joint Fires missions.
"We are very excited to be showcasing our Dismount Kit at Modern Day Marine," said Luke Wood, Director of the Naval Team at Persistent Systems. "We have already had U.S. Marine Corps units experiment with our MANET technology, but it's good to bring it before a wider audience."
Persistent's handheld MPU5 radio, a key element of the Dismount Kit, leverages the Wave Relay® MANET to transmit and relay secure voice, video, sensor, text, and digital map data in a robust, peer-to-peer fashion—all without external communications infrastructure. The MPU5 can also host Android™ applications, enabling users to remotely operate unmanned vehicles and gimbaled cameras with the Rugged Display and Controller (RDC).
The Dismount Kit also includes the Dual PTT, which allows the user to talk hands-free when Intercom Mode is engaged and access up to 16 different digital voice channels. Users can listen to two channels at the same time and can also access third-party analog RF radios on a digital channel via RoIP.
"The Dismount Kit could be a powerful tool in the hands of Marines," Wood said. "We have already been getting lots of positive feedback from Marine Corps Operating Forces worldwide that have been working with our Wave Relay® network and over-the-horizon Cloud Relay™ capabilities."
For more information about the Dismount Kit or Persistent's other MANET solutions, please visit our website or come by Persistent Systems booth (No. 948) at Modern Day Marine, held at the Walter E. Washington Convention Center, on June 27-29.
About Persistent Systems, LLC
Headquartered in New York City since 2007, Persistent Systems, LLC is a global communications technology company that develops and manufactures a patented and secure Mobile Ad hoc Networking (MANET) system: Wave Relay®. Wave Relay® transmits and receives data, video, voice and other applications under the most difficult conditions. Their suite of products is utilized in Commercial, Military, Government, Industrial, Agriculture, Robotics, and Unmanned Systems markets.