Persistent Systems, LLC and Sentry View Systems team up for USAF RVA II Contract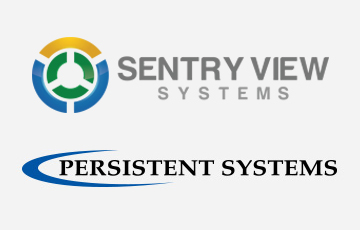 May 2, 2017
New York, NY – Known for providing Remote Visual Assessment (RVA) for the United States Air Force's Intercontinental Ballistic Missile (ICBM) program, Sentry View Systems announces they have been awarded the contract for the USAF RVA II EMD I. This is an $860K contract to design enhancements to the Air Force's Remote Visual Assessment program of record.
Persistent Systems, LLC will deliver ground-vehicle and airborne-vehicle reception solutions to Sentry View Systems, for inclusion in the full RVA2 package to be delivered by SVS to the United States Government. As the creator of the WaRTAK system, Persistent is perfectly situated to ensure seamless interfacing between RVA2 and WaRTAK.
"This confirms our ongoing commitment to provide high tech software solutions to the United States Air Force," said Kirk Hall, Sentry View Systems CEO/CFO.
The USAF Global Strike Command is responsible for securing our nation's ICBM systems. In 2004, the initial RVA system was demonstrated and installed to allow security forces to "see the threat" remotely, dramatically increasing the security of our missile wings.
Currently, the RVA system includes the RVA Surveillance System, Monitoring System, Data Transmission System and Infrastructure System. RVA is in use at Malmstrom Air Force Base, MT, Minot AFB, ND, Warren AFB, WY and Hill AFB, UT, where it provides Launch Facility (LF) and Missile Alert Facility (MAF) situational awareness by utilizing video feeds and other sensor data.
To improve RVA, additional capabilities are being rolled out as part of RVA2, including Ground Vehicle MAF/LF video feeds, Airborne Helicopter MAF/LF video feeds and a WaRTAK interface. This provides increased situational awareness for security forces, increasing their ability to "see the threat" while on the move.
Persistent's solution is based on its latest-generation Wave Relay® MANET product – the MPU5. The MPU5 utilizes MIMO technology that improves bandwidth, range and performance across the entire system. Additionally, the MPU5 is backward compatible with all previous generations of Persistent products and therefore will perform regardless of which generations are fielded as part of the WaRTAK system.
"Persistent is excited to be working with Sentry View Systems to deliver to the United States Air Force a high-bandwidth, long-range, video networking solution that enables enhanced situational awareness," added Dr. Herbert Rubens, CEO of Persistent. "Persistent's MPU5 is unique in the marketplace because its extensive video capabilities co-exist with its reliable performance in highly-mobile and otherwise challenging environments. We are ready to meet the situational awareness needs of the USAF's on-the-move users who protect our nation's ICBM systems."
Sentry View Systems will begin to work on the contract immediately.
About Persistent Systems, LLC
Headquartered in New York City since 2007, Persistent Systems, LLC is a global communications technology company that develops, manufactures, and integrates a patented and secure Mobile Ad Hoc Networking (MANET) system: Wave Relay®.  The company's industry-leading R&D team has designed wireless networking protocols to support their cutting-edge Wave Relay® system and technology.  Wave Relay® can transmit and receive data, video, and voice under the most difficult and unpredictable conditions.  Their suite of products is field proven and utilized in Commercial, Military, government, Industrial, Agriculture, Robotics, and Unmanned System markets. Please visit https://www.persistentsystems.com to learn more.  Follow Persistent Systems on Twitter to get updates on the latest developments @pswaverelay.
About Sentry View Systems
Located in Melbourne, Florida, Sentry View Systems, Inc. is a leading innovative engineering company specializing in creating ideal solutions for demanding, remote, harsh environments. It caters to the needs of system integrators by assisting with edge based solutions ranging from remote power solutions, surveillance, remote video analytics and storage, embedded software engineering, intelligent device management for optimal system readiness, remote troubleshooting, and automated system health status evaluation and response. http://www.sentryviewsystems.com.