Persistent Systems, LLC Wins a Prime Award on a $100M Multi-Award IDIQ Contract for the FBI's Tactical Mesh/Mobile Ad Hoc Network Systems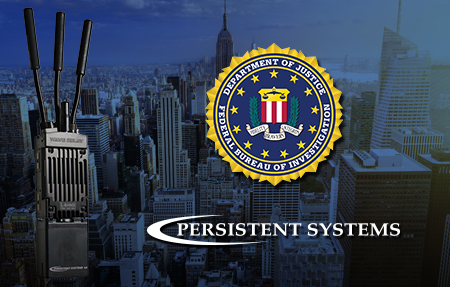 June 5, 2017
World leader in MANET radio systems to provide a powerful and scalable Tactical MANET radio technology to Department of Justice, Federal Bureau of Investigation

New York, NY /PRNewswire/ — Persistent Systems, LLC
Persistent Systems, LLC ("Persistent"), a leader in Mobile Ad hoc Network (MANET) Technology and developer of Wave Relay®, today announced that it has received a prime award on a $100M Multi-Award IDIQ contract to support the FBI's Operational Technology Division with the MPU5 communication system. The MPU5 provides a self-forming, self-healing, and extremely scalable wireless IP network to the FBI.
"This IDIQ contract will enable the FBI to deploy our latest MPU5 communication systems," said Dr. Herbert Rubens, CEO of Persistent Systems. "We are confident that the MPU5 will set a new standard for performance, capability, and features found nowhere else in the industry, and we're extremely proud to be one of the awardees chosen by the Department of Justice."
Examples of the performance the MPU5 will provide to support the FBI's mission:
A 3×3 MIMO radio with up to 6 watts of transmit power, providing a secure IP network in any environment or application with usable throughput exceeding 100 Mbps
Built-In HD Video Encoder/Decoder to distribute multiple real-time HD video feeds to team members on demand
Onboard Android™ Operating System/Data Storage, allowing end users to run ATAK and other software as well as to record/review video footage to enhance situational awareness and increase operational effectiveness.
Advanced Audio Architecture with 16 Channels of PTT Audio and Persistent's Radio over IP (RoIP) capability allowing end users to tether legacy narrow band radios to the MPU5 and put them "on the network."
Dr. Rubens added, "The MPU5's vast set of capabilities really translates into enhanced situational awareness for the agents, increased mission success, and an overall enhancement in safety. Additionally, the MPU5 provides an extremely cost effective solution for the Bureau by incorporating so much capability into a single commercial item."
The MPU5 will be available for purchase via the IDIQ contract commencing on June 1st.
About Persistent Systems, LLC
Headquartered in New York City since 2007, Persistent Systems, LLC ("Persistent") is a global communications technology company which develops, manufactures, and integrates a patented and secure Mobile Ad Hoc Networking (MANET) system: Wave Relay®. The company's R&D team has designed wireless networking protocols to support their cutting edge Wave Relay® system and technology. Wave Relay® can transmit and receive data, video, voice and other application data under the most difficult and unpredictable conditions. Persistent's suite of products is field proven and utilized in Commercial, Military, Government, Industrial, Agriculture, Robotics, and Unmanned System markets.
Please visit https://www.persistentsystems.com to learn more. Follow Persistent Systems on Twitter to get updates on the latest developments @pswaverelay.