Persistent Systems MPU5 radio receives FIPS 140-2 Level 2 Security Validation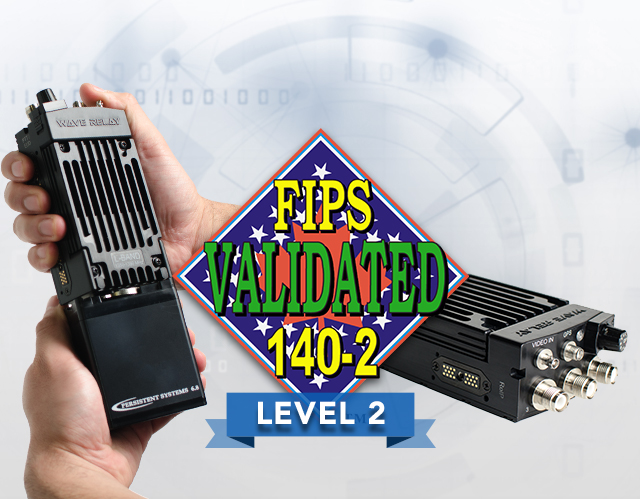 July 25, 2018
Networking radio meets requirements for cryptographic data security and physical security mechanism
NEW YORK, N.Y.-  Persistent Systems, LLC ("Persistent") announced today that the MPU5 mobile ad hoc networking (MANET) radio received a Level 2 Federal Information Processing Standards (FIPS) 140-2 security validation from the National Institute of Standards and Technology.
Users in defense, government, public safety, healthcare, and other industries with a requirement of FIPS 140-2 Level 2 can now make greater use of the MPU5 radio.
"The MPU5 runs the Wave Relay® MANET routing protocol, allowing users to transmit and relay voice, video, text, and sensor data in a true peer-to-peer fashion," said Eric Stern, Director of Engineering at Persistent Systems. "This makes it a very attractive option for a wide variety of users, from the military to law enforcement, to the federal government and the healthcare industry."
In May, the radio received a Level 1 FIPS 140-2 validation. This meant that agencies that already used the Persistent MANET radio could also use it to connect to their enterprise networks.
The FIPS 140-2 Level 2 validation incorporates the Level 1 cryptographic data security requirement with the additional requirement of physical security mechanisms, such as tamper-evidence. Now the MPU5 could be used for even more sensitive data transmission applications.
"We prioritize the security of our products because we understand the sensitive and critical operations where our products are used," said Stern. "FIPS 140-2 Level 2 provides further confirmation that our MPU5 is not only the most advanced and most scalable MANET radio, but it is also extremely secure."
Persistent has a long history of achieving security validations for past products. Our heritage products such as the MPU3, MPU4, and Quad Radio Router, were all FIPS 140-2 Level 2 validated. And our MPU5 continues this legacy of information assurance validations.
Federal agencies with FIPS 140-2 requirements should ensure that their wireless networking solution are on the Validated Modules list prior to purchase. Customers can find the list of FIPS 140-2 validated products on the National Institute of Standards and Technology website:
https://csrc.nist.gov/Projects/Cryptographic-Module-Validation-Program/Validated-Modules/Search
About Persistent Systems, LLC
Headquartered in New York City since 2007, Persistent Systems, LLC is a global communications technology company that develops and manufactures a patented and secure Mobile Ad hoc Networking (MANET) system: Wave Relay®. Wave Relay® transmits and receives data, video, voice and other applications under the most difficult conditions. Their suite of products is utilized in Commercial, Military, Government, Industrial, Agriculture, Robotics, and Unmanned Systems markets. Please visit https://www.persistentsystems.com to learn more. Follow Persistent Systems on Twitter to get updates on the latest developments @pswaverelay