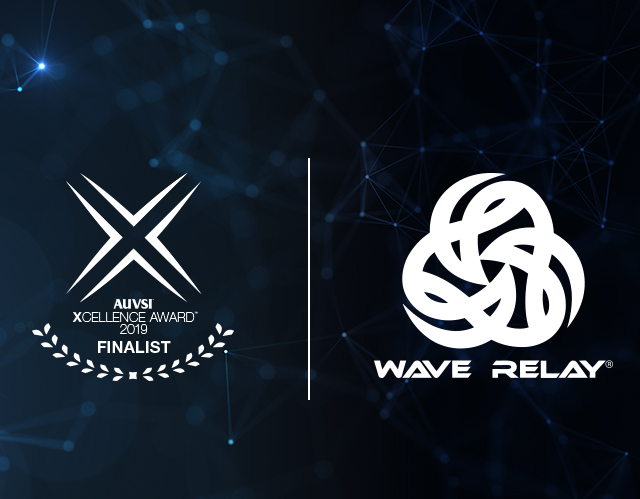 April 4, 2019
Awards ceremony to be held April 30 at XPONENTIAL unmanned systems expo, in Chicago
NEW YORK, N.Y.—Persistent Systems, LLC ("Persistent") has been named a finalist by the Association for Unmanned Vehicles Systems International (AUVSI) for an XCELLENCE award in the category of Communication or Data Connection Solutions.
Persistent was chosen specifically for its Wave Relay® mobile ad hoc network (MANET) and associated hardware. The Wave Relay® MANET allows users moving in very challenging and austere environments to share voice, video, text, and sensor data—all without a vulnerable central communications hub or fixed infrastructure.
By incorporating Persistent hardware, such as the MPU5 radio and the Embedded Module, into their own platforms and sensors, unmanned system companies can utilize the Wave Relay® MANET, allowing users (military, industry, federal and first responder) to operate disparate systems on one common network.
To that end, Persistent has founded the Wave Relay® Ecosystem, an industry alliance of leading unmanned systems manufacturers seeking to make their platforms work together on the Wave Relay® network.
"The rapid growth of the unmanned systems industry is reshaping our future by expanding business markets, providing consumers with innovative solutions and even saving lives," said Brian Wynne, president and CEO of AUVSI. "The XCELLENCE awards recognize companies and individuals who are achieving remarkable results with unmanned systems technology to benefit our communities."
Persistent is one of four finalists selected to compete for an XCELLENCE award in Communication or Data Connection Solutions. The ultimate winner will be announced during a ceremony held at the AUVSI XPONENTIAL trade show on Tuesday, April 30, at McCormick Place in Chicago.
"At Persistent, we work hard to push the edge of what's technically possible, to empower our users to carry less and accomplish more," said Dr. Herbert Rubens, CEO of Persistent Systems. "We continuously innovate to achieve excellence. That's why it's so gratifying to be named as a finalist for an AUVSI XCELLENCE award."
For media registration for XPONENTIAL, click here or contact Tom McMahon at tmcmahon@auvsi.org. For more information about XPONENTIAL and the AUVSI XCELLENCE Awards, visit xponential.org.
# # #
About Persistent Systems, LLC
Headquartered in New York City since 2007, Persistent Systems, LLC is a global communications technology company that develops and manufactures a patented and secure Mobile Ad hoc Networking (MANET) system: Wave Relay®. Wave Relay® transmits and receives data, video, voice and other applications under the most difficult conditions. Their suite of products is utilized in Commercial, Military, Government, Industrial, Agriculture, Robotics, and Unmanned Systems markets. Please visit https://www.persistentsystems.com to learn more. Follow Persistent Systems on Twitter to get updates on the latest developments @pswaverelay.
About AUVSI
The Association for Unmanned Vehicle Systems International (AUVSI)—the world's largest non-profit organization dedicated to the advancement of unmanned systems and robotics—represents corporations and professionals from more than 60 countries involved in industry, government and academia. AUVSI members work in the defense, civil and commercial markets. For more information, visit AUVSI.org.