Persistent Systems participating in student STEM program at Association of Old Crows conference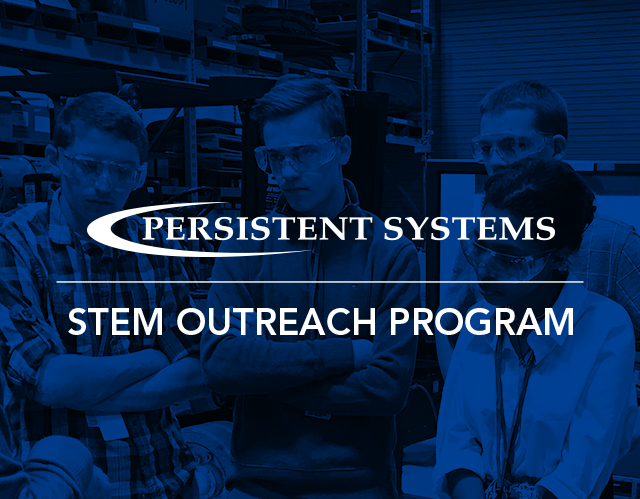 November 27, 2018
High schoolers to learn about mobile ad hoc networking (MANET) by operating and controlling robot
NEW YORK, N.Y.— Persistent Systems, LLC ("Persistent") announced today that it will be participating in the Science, Technology, Engineering and Mathematics (STEM) Outreach Program held at this year's Association of Old Crows International Symposium and Convention, in Washington, D.C., on November 27-28.
Some 800 students from nearby high schools are expected to attend the STEM Outreach Program, where they will learn the basics about the radio frequency spectrum, radar and cybersecurity by interacting with technologies displayed at company booths.
Persistent Systems will showcase its MPU5 mobile ad hoc networking (MANET) radio and let students use it to control the movements and the sensor on board a ground robot. "We want them to have a hands-on experience," said Laura Sunden, director of Business Development for Persistent, "to see just some of the few things MANET technology can do."
The MPU5 radio is used by Federal Agencies and the Department of Defense. A smaller, lighter weight version of the MANET system is also embedded on unmanned aerial vehicles and ground robots, like the one at the conference.
Now in its fourth year, the STEM Outreach Program was developed by the Association of Old Crows, which represents experts and veterans in such fields as electronic warfare and information operations, in order to encourage high school students to pursue STEM careers.
"For America to keep its competitive edge, we need to introduce our best and brightest to the STEM fields," said Lisa Frugé-Cirilli, president of the Association of Old Crows, "and by working with companies and schools, programs like ours make it all tangible and exciting."
About the Association of Old Crows
The Association of Old Crows is an organization for individuals who have common interests in Electronic Warfare (EW), Electromagnetic Spectrum Management Operations (EMSO), Cyber Electromagnetic Activities (CEMA), Information Operations (IO), and other information related capabilities. The Association of Old Crows provides a means of connecting members and organizations nationally and internationally across government, defense, industry, and academia to promote the exchange of ideas and information, and provides a platform to recognize advances and contributions in these fields.
About Persistent Systems, LLC
Headquartered in New York City since 2007, Persistent Systems, LLC is a global communications technology company that develops and manufactures a patented and secure Mobile Ad hoc Networking (MANET) system: Wave Relay®. Wave Relay® transmits and receives data, video, voice and other applications under the most difficult conditions. Their suite of products is utilized in Commercial, Military, Government, Industrial, Agriculture, Robotics, and Unmanned Systems markets. Please visit https://www.persistentsystems.com to learn more. Follow Persistent Systems on Twitter to get updates on the latest developments @pswaverelay