Persistent Systems successfully completes ISO 9001:2015 recertification audit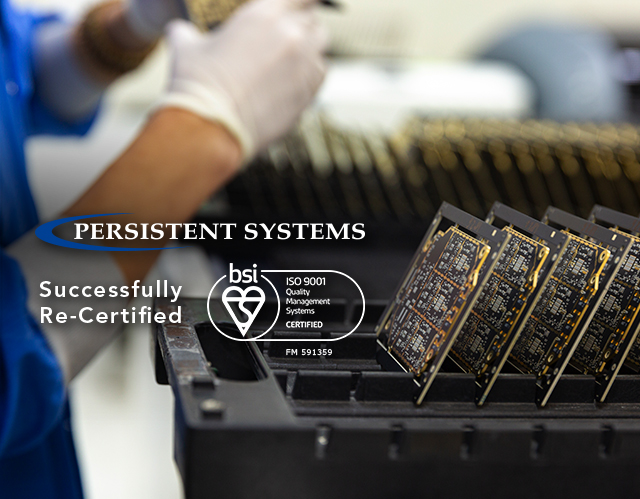 December 7, 2021
Persistent maintains a reputation for reliable delivery and continuous improvement of mobile ad hoc networking products

NEW YORK, N.Y.-Persistent Systems, LLC ("Persistent"), a leading developer of mobile ad hoc networks (MANET), announced today that it has undergone a successful recertification audit by a third-party registrar, receiving an International Standards Organization (ISO) 9001:2015 recertification in three categories




Engineering design and development,
Manufacturing and,
Sales.
This ISO recertification attests to Persistent being a reliable, transparent, and accountable supplier, with mature, low-risk processes that customers can rely upon—both for new hardware, like the recently released Rugged Display and Controller (RDC), and regularly enhanced FIPS-validated firmware (available for free via Persistent's customer portal).
"This recertification is a big deal," said Helson Maria, Persistent Systems Director of Quality. "It validates the ISO processes that undergird Persistent's reputation for the reliable delivery and continuous improvement of our products."
The rigorous audit of Persistent Systems, of everything from the sales approval processes to post-delivery activities, was conducted by the registrar over a period of five days. Auditors examined how Persistent identified, met, and tested regulatory and customer requirements prior to product shipment.
"The auditor walked through each step and demanded evidence that we were doing everything according to our documented procedures," said Maria.
But, company officials say, the ultimate proof of their ISO processes is how they play out in the real world, both in mitigating risk of electronic shortages and in handling the impact of the coronavirus.
"During the pandemic, we never had a single supply chain issue because we have a tight grip on our processes," said Eric Stern, Persistent's Executive VP of Engineering and Operations. "That's something our customers value."
Persistent's ISO 9001:2015 certificate is available upon request.
About Persistent Systems, LLC
Headquartered in New York City since 2007, Persistent Systems, LLC is a global communications technology company that develops and manufactures a patented and secure Mobile Ad hoc Networking (MANET) system: Wave Relay®. Wave Relay® transmits and receives data, video, voice and other applications under the most difficult conditions. Their suite of products is utilized in Commercial, Military, Government, Industrial, Agriculture, Robotics, and Unmanned Systems markets. Please visit https://www.persistentsystems.com to learn more. Follow Persistent Systems on Twitter to get updates on the latest developments @pswaverelay.