Persistent Systems successfully demonstrates flat 320-radio MPU5 network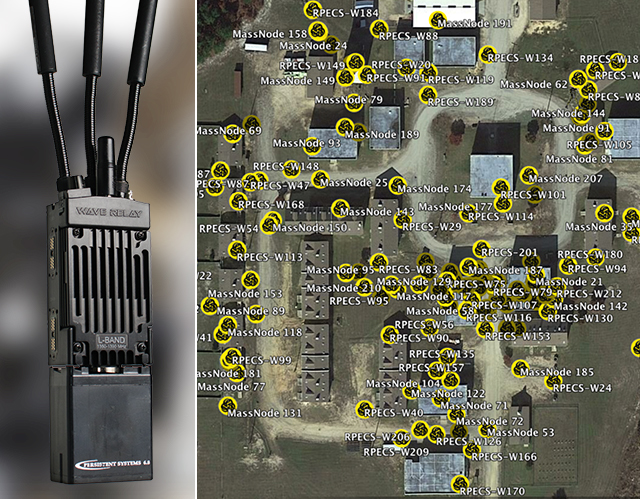 April 24, 2018
Mobile ad hoc networking solution delivers reliable comms, situational awareness, under rough conditions.
NEW YORK, N.Y. Persistent Systems, LLC ("Persistent") announced today that it successfully demonstrated that its MPU5 smart radio could scale up to an unprecedented 320-node mobile ad hoc network (MANET) at a military operation urban training facility, at Fort Bragg, North Carolina.
The MPU5 runs the Wave Relay® MANET routing protocol, allowing the radio to transmit and relay secure voice, video, text, and sensor data in a robust, peer-to-peer fashion—all without external communications infrastructure. It's a capability that the U.S. Army has been looking for with its Brigade Combat Teams.
"The Army wants a MANET that can scale up to 250 mobile radios in a flat, layer-2 network," said Herbert Rubens, founder and CEO of Persistent Systems. "However, such a network would exceed the capability of most other solutions currently available."
By contrast, Persistent's Wave Relay® was designed to achieve extremely high levels of scalability without any limitation on the number of nodes or routing hops permitted in the network. And the Fort Bragg demonstration—in which, 320 MPU5 radios, spread across 37 multi-story buildings including basement levels, communicated successfully on a single RF channel—proved this capability.
"Let's be clear: A flat MANET network of this size has never been demonstrated by any other organization," Rubens said. "We not only proved that it is possible to scale up to a 320-node, flat, layer-2 network, but that it works, and it works well."
During the demonstration, the MPU5:
Tethered with Samsung Galaxy S7 phones, reported their GPS locations, to provide situational awareness in both ATAK and WinTAK;
Connected a video camera on a Polaris DAGOR lightweight tactical vehicle, streamed more than 2 Mbps of multicast video over the network; and
Used its Radio over IP (RoIP) capability to tether multiple legacy land mobile radios into the network, allowing dismounts to speak on Tactical Satellite while carrying only an MPU5 and the Persistent Dual PTT Device.
The load on the network was representative of an extremely large team running voice, video, and situational awareness. Yet despite the load on the network, the MANET still had additional capacity to spare.
"Persistent has a reputation for advancing the state-of-the-art in scalable MANET technology," Rubens said. "And we have proven that the MPU5 can deliver a tactical MANET network that scales beyond the Army's requirements."
About Persistent Systems, LLC
Headquartered in New York City since 2007, Persistent Systems, LLC is a global communications technology company which develops, manufactures, and integrates a patented and secure Mobile Ad Hoc Networking (MANET) system: Wave Relay®. The company's industry leading R&D team has designed wireless networking protocols to support their cutting-edge Wave Relay® system and technology. Wave Relay® transmits and receives data, video, voice and other applications under the most difficult and unpredictable conditions. Their suite of products is field proven and utilized in Commercial, Military, Government, Industrial, Agriculture, Robotics, and Unmanned System markets. Please visit https://www.persistentsystems.com to learn more. Follow Persistent Systems on Twitter to get updates on the latest developments @pswaverelay.