Persistent Systems to provide mobile ad hoc networking (MANET) to Insitu Unmanned Aerial Vehicles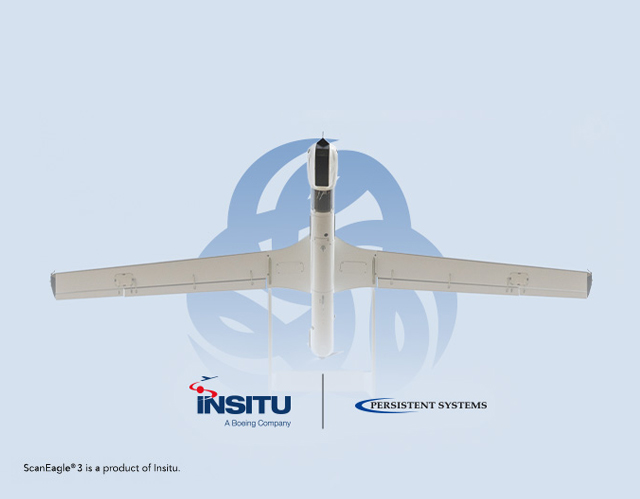 October 24, 2018
Insitu will now join Wave Relay® Ecosystem, industry-wide alliance of MANET radio users
NEW YORK, N.Y.— Persistent Systems, LLC ("Persistent") announced today that it has entered into a five-year agreement with Insitu, a Boeing Company.
Insitu will incorporate Persistent's Wave Relay® mobile ad hoc network (MANET) technology into their line of unmanned aerial vehicles (UAVs), including the ScanEagle®, ScanEagle2, ScanEagle3, Integrator™, and RQ-21A Blackjack.
"We are proud to collaborate with Insitu and have our Wave Relay® MANET products serve as a preferred communications system on their platforms," said Louis Sutherland, VP Business Development for Persistent Systems.
In incorporating Persistent's MANET radios on their UAVs, Insitu will be a member of the Wave Relay® Ecosystem, an alliance of industry-leading companies using Wave Relay® MANET radios in their products. This will allow Insitu's platforms to work seamlessly with all other Wave Relay® MANET-enabled products.
"Insitu leads the small UAS business and has excelled in delivering accurate and timely information to enable our customers to make the best decisions possible," says Matt Bartow, Insitu's Chief Technology Officer. "Integrating the Wave Relay® MANET into our products gives our systems a critical communication capability, enabling a wholly networked field solution."
For more information on Wave Relay®-enabled Insitu products, please contact Monica Golden, Insitu's Media Contact, at 509-637-6574, or via e-mail at monica.golden@insitu.com
About Insitu
Insitu is an industry-leading provider of information for superior decision making. With its headquarters in Bingen, Wash., and offices in the U.S., U.K., and Australia, the company creates and supports unmanned systems and software technology that deliver end-to-end solutions for collecting, processing and understanding sensor data. We proudly serve the diverse needs of our global customers in the defense, government and commercial industries. To date, our systems have accumulated more than one million flight hours. Insitu is a wholly-owned subsidiary of The Boeing Company.
For more information, visit insitu.com.
About Persistent Systems, LLC
Headquartered in New York City since 2007, Persistent Systems, LLC is a global communications technology company that develops and manufactures a patented and secure Mobile Ad hoc Networking (MANET) system: Wave Relay®. Wave Relay® transmits and receives data, video, voice and other applications under the most difficult conditions. Their suite of products is utilized in Commercial, Military, Government, Industrial, Agriculture, Robotics, and Unmanned Systems markets. Please visit https://www.persistentsystems.com to learn more. Follow Persistent Systems on Twitter to get updates on the latest developments @pswaverelay