Persistent Systems to Release Groundbreaking 19.1.2 Firmware Update – Unlocking the Full Potential of the MPU5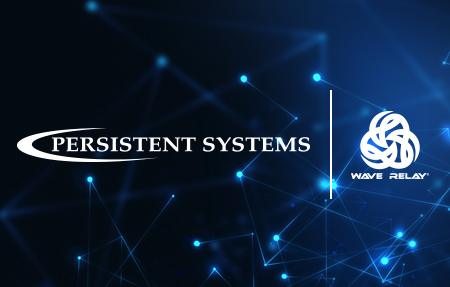 May 16, 2017
New York, NY | Tampa, FL – In conjunction with the 2017 SOFIC show, Persistent Systems, LLC ("Persistent") is excited to release Firmware Version 19.1.2 for the MPU5. This firmware release delivers a mature, fully-realized MPU5 capability set reflecting real-world user feedback from deployment of the MPU5 in multiple theaters of operation.
Dr. Herbert Rubens, CEO of Persistent added, "This has been an exciting year. The user community has deployed the MPU5 extensively and experienced the transformational capability that it delivers. The Persistent team has been extremely focused on refining our core functionality with the goal of delivering a very polished product. After 25 development builds, extensive field testing, and operational feedback, we have created a field-proven, mature solution."
Since its initial release in April 2016, the MPU5 has become the most in-demand tactical radio due to its cutting-edge capability set – Wave Relay® (the world's leading MANET), integrated video encoding, onboard Android™ OS, and 3×3 MIMO technology that provides extremely high throughput exceeding 100 Mbps.  Firmware Version 19.1.2 represents the largest step forward for the MPU5 since its release, adding critical new capabilities and augmenting existing ones to keep the MPU5 at the forefront of tactical radio technology.
The Wave Relay® MANET, Persistent's core technology, makes the MPU5 the most robust tactical networking solution on the market.  Wave Relay® was designed for the mobile user and allows a decentralized group of fully mobile users to communicate continuously and efficiently without the need for fixed infrastructure.  Each MPU5 on the Wave Relay® MANET communicates with the entire network, forming a true peer-to-peer, self-forming, self-healing MANET with no master node or base station.
Firmware Version 19.1.2 contains significant performance improvements.  Persistent's team of innovative software engineers spent twelve months analyzing how to improve Wave Relay®'s existing dynamic networking algorithms to take full advantage of the MPU5's powerful 3×3 MIMO performance.  Specifically, Persistent's engineers:
Eliminated sources of packet loss for all traffic types
Improved network stability, scalability, and efficiency
Minimized network overhead, resulting in increased wireless medium availability
Improved network performance and maximum distance in all RF environments
Combined, these improvements:
Give users more usable bandwidth to share video and other situational awareness data
Enable users to share that data with more team members over larger distances more reliably
Promote better, faster decisions in the field
Firmware Version 19.1.2 also fully implements Persistent's Radio over IP (RoIP) capability.  With RoIP, users can tether existing LMR radios to an MPU5 and put those LMRs "on the network."  RoIP is compatible with common LMR radio models (Motorola XTS 5000, Motorola APX 7000, Motorola XTL 5000, Harris Unity XG-100, AN/PRC-148, AN/PRC-152a, and AN/PRC-117g).  The MPU5's RoIP capability was designed for field users – the MPU5 detects the tethered LMR radio model and automatically configures settings to minimize complexity and provide users with access to standard Military waveforms within seconds.  With an LMR radio tethered to an MPU5, all MPU5 users on the network can transmit over the LMR radio and can receive LMR audio on their MPU5s.  When multiple LMR radios are available in the network, smart routing algorithms transmit using the best radio available, ensuring that communications always go through reliably.
Dr. Rubens added, "Our integrated Radio over IP capability enables dismounted tactical users to talk out of large, vehicle-mounted, amplified, military radio systems directly from their MPU5. If the vehicle departs, the system is smart enough to find an alternate LMR radio on the same frequency to ensure reliable communication. The result is that legacy voice radios work better than ever before when tethered into the MPU5 network."
The MPU5's video capabilities are improved significantly in Firmware Version 19.1.2.  The MPU5 now accepts 3G-SDI input from both interlaced and progressive cameras.  The MPU5's video encoder and decoder have both been upgraded to provide smoother, more reliable video in mobile environments.  Persistent is also releasing an updated version of Wave Relay® Player (a video decoding Android™ app). Wave Relay® Player 1.1.0 reduces glass-to-glass latency to less than 300 milliseconds, enabling a true end-to-end video solution.
"The MPU5 was utilized by three separate television networks to broadcast the Super Bowl this year. We have worked closely with our broadcast customers to optimize our video encoding and streaming capabilities. Their guidance has been invaluable. The SOF community now benefits from a fully integrated video encoding solution that delivers television-quality HD video. It's definitely a win-win situation for all," remarked Dr. Rubens.
Firmware 19.1.2 is immediately available. Existing customers should receive an email notification and can download the firmware from Persistent's support portal. All customers are encouraged to upgrade.