Persistent to Release Firmware Version 19.6.0 with support for new Rugged Display & Controller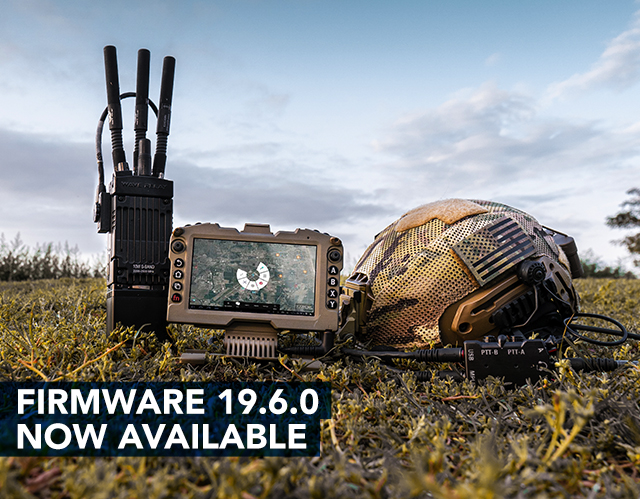 September 24, 2020
NEW YORK, NY. – Persistent Systems, LLC ("Persistent") is excited to release Firmware Version 19.6.0 for the MPU5. This firmware delivers critical capability sets for interference mitigation, Cloud Relay™ enhancements, and support for the new Rugged Display & Controller which creates a complete, Persistent-supplied dismounted soldier system.
Firmware Version 19.6.0 contains significant new features and performance improvements including:
Rugged Display & Controller (RDC) support: This firmware introduces support for the newest product from Persistent, the RDC.
Cloud Relay™ Integrated Router Technology Preview: Cloud Relay™ enables global connectivity of Wave Relay® MANET bubbles over a transport network like the Internet. The MPU5 can now deliver the Cloud Relay™ capability without requiring a 3rd party router – significantly reducing size, weight, power, and complexity. Simply plug an MPU5 into any Internet connection and Cloud Relay™ connectivity is instantly established. Even an Android™ phone or iPhone® when connected to an MPU5 via a USB cable can be utilized as an Internet connection to establish Cloud Relay™.
Interference Mitigation: Addresses more sophisticated threat types with no reduction is performance or scalability. No additional configuration required – protection is always-on.
Multicast APK Install: Users can now install Android™ Applications and upload configuration files to an entire network significantly faster by leveraging IP Multicast.
"We continue to empower the warfighter with industry-leading capabilities. We developed these capabilities based on direct feedback from warfighters to meet their operational requirements.," said Eric Stern, Director of Engineering for Persistent.
Firmware Version 19.6.0 is immediately available in the Tech Support Portal. All customers are encouraged to upgrade.
About Persistent Systems, LLC
Headquartered in New York City since 2007, Persistent Systems, LLC is a global communications technology company that develops and manufactures a patented and secure Mobile Ad hoc Networking (MANET) system: Wave Relay®. Wave Relay® transmits and receives data, video, voice and other applications under the most difficult conditions. Their suite of products is utilized in Commercial, Military, Government, Industrial, Robotics, and Unmanned Systems markets. Please visit https://www.persistentsystems.com to learn more. Follow Persistent Systems on Twitter to get updates on the latest developments @pswaverelay. Android is a trademark of Google, LLC. iPhone is a registered trademark of Apple Inc.
# # #