Persistent's low-SWAP mobile ad hoc networking Embedded Module receives new security validation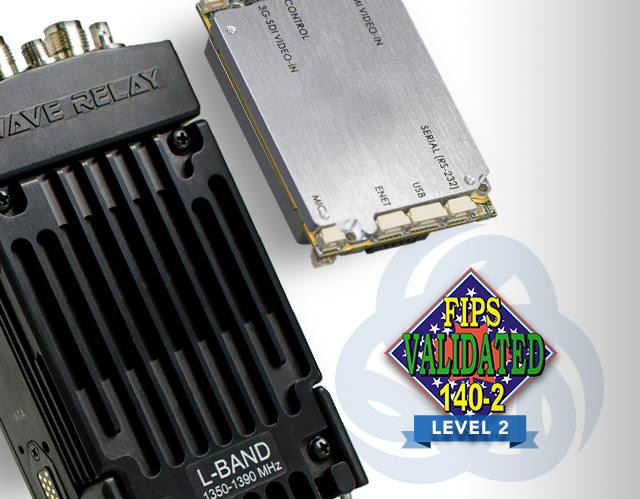 September 5, 2018
Now all Persistent Systems product offerings are validated at FIPS 140-2 Level 2
NEW YORK, N.Y. – Persistent Systems, LLC ("Persistent") announced today that its Embedded Module, a low-size, -weight and -power mobile ad hoc networking (MANET) unit for sensors and unmanned vehicles, received a Federal Information Processing Standards (FIPS) 140-2 Level 2 security validation from the National Institute of Standards and Technology. This achievement confirms that all Persistent's main products have achieved this level of validation, increasing usability for users with nonnegotiable requirements for FIPS 140-2 Level 2.
The new FIPS 140-2 Level 2 validation means the Embedded Module not only meets its Level 1 cryptographic data security requirement, but it also has in place physical security mechanisms, such as tamper-evidence, allowing it to handle sensitive data transmission.
"Now, all of our main products running the Wave Relay® MANET routing protocol are FIPS 140-2 Level 2," said Eric Stern, Director of Engineering at Persistent Systems. "This is critical for our customers in the federal government, U.S. military and special operations, who require extremely secure networking."
Persistent's suite of Wave Relay® MANET products have been engineered to meet information assurance requirements in any use case, whether it is a person carrying an MPU5 or an Embedded Module built into a UAV, UGV, or sensor. This is especially important for Wave Relay® Ecosystem partners who have incorporated Wave Relay® MANET radios into their products and are competing for government programs with FIPS requirements. The Wave Relay® Ecosystem is an alliance of industry-leading companies that develop and build products connected via the Wave Relay® MANET.
Persistent products have consistently met strict security requirements, with every product achieving both Level 1 and Level 2 FIPS 140-2 validation.
Persistent's principal product is the handheld MPU5 MANET radio. The MPU5 allows users to transmit and relay voice, video, text, and sensor data in a true peer-to-peer fashion, without the need for external communications infrastructure. In July, it received its FIPS 140-2 Level 2 Security validation.
The Embedded Module, now likewise validated, delivers the same data networking capabilities, but in a smaller form factor, which can be built into an unmanned aircraft, ground robot or sensor. "This validation marks the Embedded Module as the go-to Wave Relay® MANET integrator for all systems and sensors," Stern said.
Certificate numbers and information for each FIPS 140-2 validated Wave Relay® MANET product are as follows:
Certificate #3183 – MPU5 – Level 1
Certificate #3234 – MPU5 – Level 2
Certificate #3180 – Embedded Module – Level 1
Certificate #3259 – Embedded Module – Level 2
About Persistent Systems, LLC
Headquartered in New York City since 2007, Persistent Systems, LLC is a global communications technology company that develops and manufactures a patented and secure Mobile Ad hoc Networking (MANET) system: Wave Relay®. Wave Relay® transmits and receives data, video, voice and other applications under the most difficult conditions. Their suite of products is utilized in Commercial, Military, Government, Industrial, Agriculture, Robotics, and Unmanned Systems markets. Please visit https://www.persistentsystems.com to learn more. Follow Persistent Systems on Twitter to get updates on the latest developments @pswaverelay