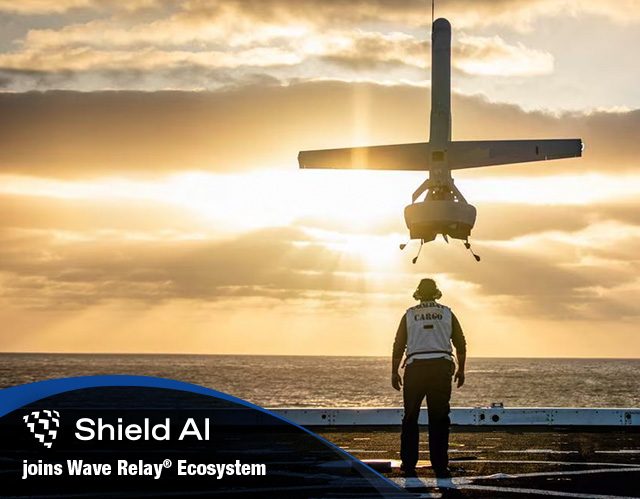 September 27, 2023
Wave Relay® mobile ad hoc network to serve as preferred communications link for Shield AI's V-BAT
Persistent Systems, LLC ("Persistent"), a leader in mobile ad hoc networking (MANET), announced today that Shield AI, the developer of a combat-deployed artificial intelligence (AI) pilot for manned and unmanned aircraft, has joined Persistent's Wave Relay® Ecosystem.
The Wave Relay® Ecosystem is an industry alliance of unmanned aircraft systems (UAS), unmanned ground vehicle (UGV), and sensor companies all utilizing Persistent's Wave Relay® MANET as their command-and-control and communications network. This standardization allows customers to choose platforms that all work together, unburdening the operator by eliminating the need for extra equipment.
"We are excited to have Shield AI join the Wave Relay® Ecosystem," said Chris Knapp, director of Business Development at Persistent Systems. "Shield AI is the world leader in AI pilots for unmanned aerial vehicles. Their AI Pilot has flown Shield AI's own Group 3 UAS, the V-BAT; Group 1 UAS, Nova and Nova 2, as well as an F-16."
Shield AI enables teams of intelligent aircraft to operate autonomously on the edge in high threat environments without relying on remote operators, command inputs, or GPS. All this functionality is aided by a robust communications framework, and the low-latency Wave Relay® MANET will serve as a core component of that framework.
Running on the Embedded Module and the handheld MPU5 radio, Wave Relay® is a self-forming, self-healing peer-to-peer network that enables users to share voice, video, text, situational awareness, and sensor data—without the need for external communications infrastructure.
A version of the Shield AI V-BAT developed for the U.S. Naval Air Warfare Center Aircraft Division's (NAWCAD) Multi-Mission Tactical UAS Increment 2 (Mi2) program already carries two Embedded Modules, enabling communications on two separate bands increasing resilience in congested and contested environments.
"The Wave Relay® MANET is reliable, capable, and versatile, and has a proven record of success on our V-BAT," said Brandon Tseng, Cofounder and President at Shield AI. "Persistent Systems has been a great partner of ours over the years and we're proud to continue working with them as their Ecosystem evolves."
Collaboration between the two organizations is already underway. The V-BAT UAS is currently available and shipping with Wave Relay technology inside.
About Persistent Systems, LLC
Headquartered in New York City since 2007, Persistent Systems, LLC is a global communications technology company that develops and manufactures a patented and secure Mobile Ad hoc Networking (MANET) system: Wave Relay®. Wave Relay® transmits and receives data, video, voice, and other applications under the most difficult conditions. Their suite of products is utilized in Commercial, Military, Government, Industrial, Robotics, and Unmanned Systems markets.
About Shield AI    
Founded in 2015, Shield AI is a venture-backed defense technology company whose mission is to protect service members and civilians with intelligent systems. In pursuit of this mission, Shield AI is building the world's best AI pilot. Its AI pilot, Hivemind, has flown a fighter jet (F-16), a vertical takeoff and landing drone (V-BAT), and a quadcopter (Nova). The company has offices in San Diego, Dallas, Washington DC and abroad. Shield AI's products and people are currently in the field actively supporting operations with the U.S. Department of Defense and U.S. allies.