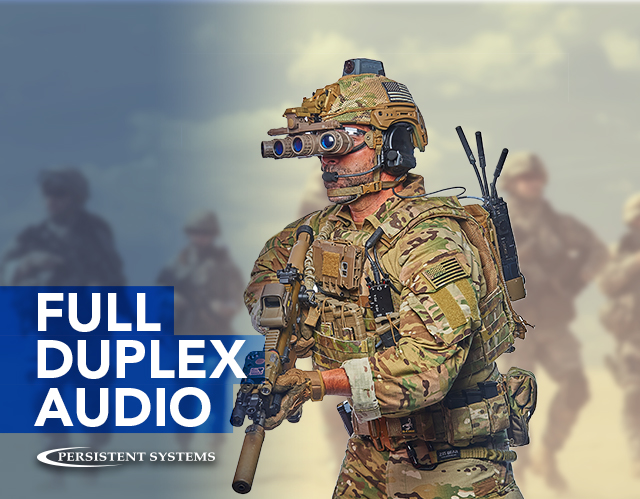 May 21, 2019
MPU5 users can now communicate continuously without having to push-to-talk
NEW YORK, New York. – Persistent Systems, LLC ("Persistent") announced today that it has introduced a Full Duplex Audio capability to its MPU5 mobile ad hoc network radio, which will be exhibited at the upcoming Special Operations Forces Industry Conference (SOFIC), in Tampa, Fla.
With this new Full Duplex Audio capability, MPU5 users can now speak freely to each other, as if on intercom system, without having to push-to-talk each time they want to communicate. The Full Duplex Audio is multicast across the MANET enabling users to communicate continuously even in complex multi-hop topologies.
"MPU5 users are often in situations that require the use of both hands, such as holding a weapon, operating a vehicle, working with tools, and communicating with their team, all at the same time," said Eric Stern, Director of Engineering for Persistent. "We built the Full Duplex Audio capability so users can communicate with their team hands-free and maintain functionality for other critical tasks."
To activate the Full Duplex Audio capability, MPU5 users need only double-tap both buttons on Persistent's Dual Push-to-Talk (PTT), and they are good to go until the capability is similarly turned off. While Full Duplex is enabled, users can still Push-to-Talk on the Dual-PTT to communicate on other talk groups. The Full Duplex capability works alongside the traditional push-to-talk functionality (not in place of it).
The Full Duplex Audio capability works best with stereo headsets from TEA (Television Equipment Associates, Inc.), which has collaborated with Persistent in developing a fully supported product for MPU5 users.
"For 50 years now, our mission at TEA has been to provide customers with the best communication ancillaries available anywhere in the market today," said Jeffrey L. Norment, President of TEA Headsets. "By partnering with Persistent Systems and leveraging their vast capabilities and experience within the tactical radio networking arena, TEA continues to supply military personnel with the customized hearing protection they need while being able to maintain communications."
The Full Duplex functionality is available as a Technology Preview in Persistent's 19.4 firmware which is available to all MPU5 customers. For more information on Full Duplex Audio, come by Persistent's SOFIC booth (1712) at the Tampa Convention Center, on May 20-23, or visit our website: https://www.persistentsystems.com.
About Persistent Systems, LLC
Headquartered in New York City since 2007, Persistent Systems, LLC is a global communications technology company that develops and manufactures a patented and secure Mobile Ad hoc Networking (MANET) system: Wave Relay®. Wave Relay® transmits and receives data, video, voice and other applications under the most difficult conditions. Their suite of products is utilized in Commercial, Military, Government, Industrial, Agriculture, Robotics, and Unmanned Systems markets. Please visit https://www.persistentsystems.com to learn more. Follow Persistent Systems on Twitter to get updates on the latest developments @pswaverelay.