U.S. Air Force Awards Persistent Systems $75.5 Million Contract for Regional Operating Picture Program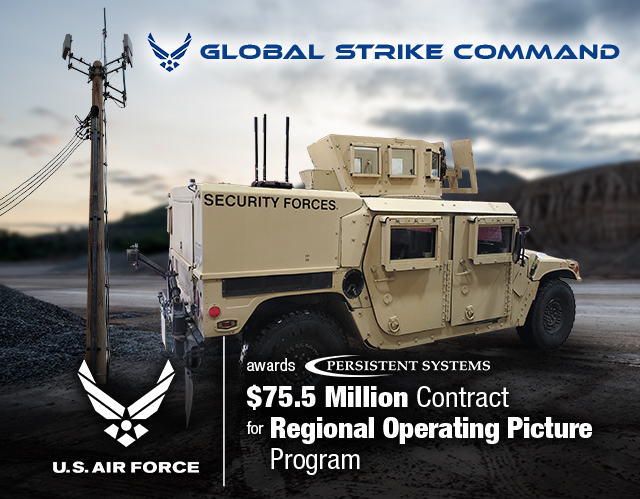 March 1, 2023
Missile field communication system connects security forces to operation centers
Persistent Systems, LLC ("Persistent"), a leader in mobile ad hoc networking (MANET) technology, announced today that it was awarded a $75.5 million contract from the U.S. Air Force supporting Air Force Global Strike Command (AFGSC) to roll out the company's Infrastructure-based Regional Operation Network (IRON) offering across three Air Force bases as part of the Regional Operating Picture (ROP) program.
Persistent's Wave Relay® network enables airmen equipped with MANET devices to seamlessly share voice, video, chat, sensor, and GPS data. IRON, serving the U.S. Air Force's ROP program, will extend this robust network over a 25,000-square-mile geographic area, connecting MANET edge networks into one unified Battlespace Awareness Network for increased situational awareness.
"U.S. military bases can sprawl tens of thousands of square miles, and as it stands now, there's no dynamic, high-bandwidth way for headquarters staff to track, and reliably remain in contact with, the security personnel patrolling this vast area," said Adrien Robenhymer, Persistent's VP of Business Development. "Should personnel run into problems in the field, they wouldn't have effective support from an operations center."
ROP utilizes IRON, an easy-to-deploy Integrated MANET Antenna System on fixed towers and poles to create a permanent Wave Relay® MANET coverage area. Around 700 IRON systems will be installed to deliver 25,000 square miles of coverage, connecting 75 operation centers, and over 1,000 Security Force vehicles—resulting in the largest MANET network in the world.
With ROP in place, security personnel on a missile field can now maintain constant communication through the towers to an Operations Center (OC). Likewise, the staff at the OC can follow the movement, and know the precise location, of the Security Forces on a digital map, also known as a Common Operational Picture (COP). Both parties can seamlessly share critical tactical mission data for information fusion and action.
"The first step will be to roll out ROP across Malmstrom, Minot, and F.E. Warren Air Force Bases with eventually more to come," said Robenhymer. "But IRON has other applications beyond situational awareness. It facilitates a fully digital battlespace that links multiple weapon systems and programs in a unified network. It provides the foundation on which a true Joint All Domain Command and Control (JADC2) system could be built."
IRON is also used with networked weapons, base defense, distribution of over-the-horizon communications for airborne counterinsurgency, and to support the Air Force's Agile Combat Employment (ACE) concept for dealing with near-peer powers targeting large air bases.
"With our easy deployment and robust network, we can enable the rapid set-up of small, spartan airstrips manned by any number of personnel," said Robenhymer. "ROP is just the beginning."
The ROP Program has already commenced deploying IRON systems across the missile fields and will continue over the next 36 months.
About Persistent Systems, LLC
Headquartered in New York City since 2007, Persistent Systems, LLC is a global communications technology company that develops and manufactures a patented and secure Mobile Ad hoc Networking (MANET) system: Wave Relay®. Wave Relay® transmits and receives data, video, voice and other applications under the most difficult conditions. Their suite of products is utilized in Commercial, Military, Government, Industrial, Robotics, and Unmanned Systems markets. Please visit https://www.persistentsystems.com to learn more. Follow Persistent Systems on Twitter to get updates on the latest developments @pswaverelay.