U.S. Army ground robots to integrate Persistent Systems network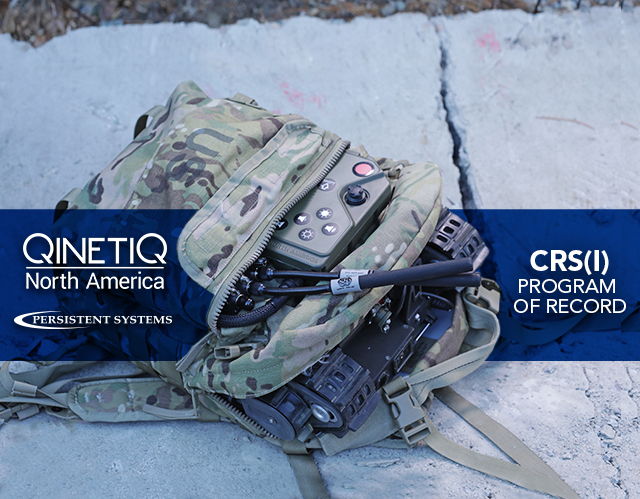 June 12, 2019
Wave Relay® MANET to serve as communication network on QinetiQ robot for CRS(I) program of record.
NEW YORK, New York. – Persistent Systems, LLC ("Persistent") announced today that it will be supplying its Wave Relay® mobile ad hoc networking technology to the QinetiQ North America ("QNA") team chosen for the U.S. Army's Common Robotic System-Individual (CRS(I)) program of record.
CRS(I) is a backpackable robot, less than 25 pounds, that dismount users can carry with sensor suites for viewing and detecting threats, providing greater situational awareness in the field.
QNA won the Indefinite Deliver Indefinite Quantity (IDIQ) contract, valued at up to $164 million. The company has already begun placing Low Rate Initial Production orders for Persistent's Wave Relay®-enabling Embedded Module, which will be fitted into each new ground robot.
"We're excited to, once again, deliver the Wave Relay® MANET to the U.S. Army and help lead the drive towards networking the battlefield," said Leslie Hulser, Director of Programs for Persistent. "We are also very proud of our partnership with QinetiQ and congratulate them on this award."
QNA was one of the first members of the Wave Relay® Ecosystem, an industry alliance of unmanned system and sensor companies putting their platforms on a common Wave Relay network—with the ultimate goal of giving the warfighter easy access to every unmanned vehicle, sensor and camera.
The Persistent Systems Embedded Module form-factor is QNA's MANET radio of choice for CRS(I), providing secure, long-range data communication for the small ground robots.
For information on the Wave Relay® Ecosystem, visit www.persistentsystems.com/ecosystem/
About Persistent Systems, LLC
Headquartered in New York City since 2007, Persistent Systems, LLC is a global communications technology company that develops and manufactures a patented and secure Mobile Ad hoc Networking (MANET) system: Wave Relay®. Wave Relay® transmits and receives data, video, voice and other applications under the most difficult conditions. Their suite of products is utilized in Commercial, Military, Government, Industrial, Agriculture, Robotics, and Unmanned Systems markets. Please visit https://www.persistentsystems.com to learn more. Follow Persistent Systems on Twitter to get updates on the latest developments @pswaverelay.
About QinetiQ North America: QinetiQ North America (QNA) is a subsidiary of QinetiQ Group plc, the FTSE250 company listed on the London Stock Exchange (LSE:QQ.L). QNA delivers world-class technology and revolutionary products to the defense, security, commercial and utility markets. Customers rely on QNA products to increase situational awareness, aid in personal safety, enhance security and streamline operations. QNA products include unmanned systems, military survivability solutions and power sensors and control systems. QNA is headquartered in Waltham, Massachusetts and operates as the US arm of QinetiQ Group's Global Products division. For more information, visit www.qinetiq-na.com.