VP of Strategy and Business Development to join Persistent Leadership Team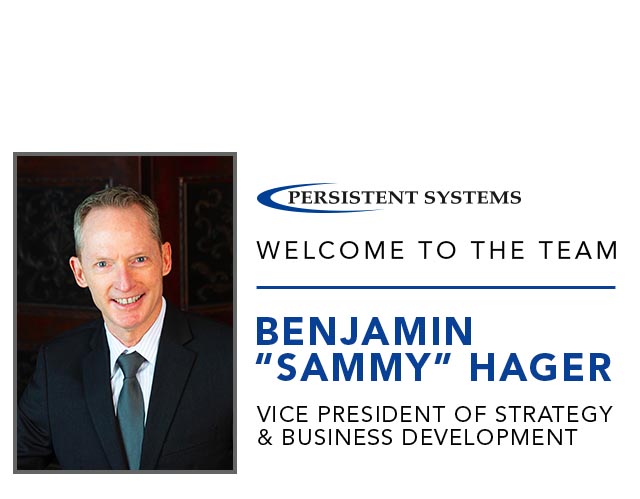 February 2, 2021
Persistent continues to pursue growth with expansion of leadership team.
NEW YORK, N.Y. – Persistent Systems, LLC ("Persistent"), developer of the Wave Relay® Mobile Ad hoc Network (MANET), is pleased to announce the appointment of Benjamin "Sammy" Hager as Vice President, Strategy and Business Development, effective February 1, 2021. 
"As we focus on expanding our ability to increase customer success, we proudly welcome Sammy to the Persistent Team, to lead our Business Development and Sales Team," said Dr. Herb Rubens, Founder & CEO of Persistent. "Sammy brings a record of performance and unique experience that will bring a new edge to our growing team."
Mr. Hager joins the Persistent Leadership Team focusing on continued growth, enhancing processes, and developing new strategies across the entire company. This approach will prove to be a competitive advantage in Persistent's markets, driving successful expansion and efficiencies throughout the company's operations. As Persistent continues to scale up for expansion, Mr. Hager will oversee the company's vision, mission and goals; enacting dynamic growth enablers, including critical global market relationships, business capture excellence and successful program execution.
"I am honored and humbled to join the outstanding team at Persistent Systems. It is with great anticipation that we look forward to a strong future and continue to 'flex our muscles,' proving our capabilities as we work alongside our partner companies, industry and customers. We will continue to grow, innovate, and develop disruptive and force-multiplying technologies with a total commitment to the success of the warfighter," said Hager.
Mr. Hager has 30 years of experience in both U.S. active duty military service and the defense industry. Following 10 years as an aviator in the U.S. Air Force, Sammy has held leadership positions with L3Harris Technologies, Leonardo DRS, Cubic Corporation and Northrop Grumman. Previous successes have included worldwide assignments leading executive business development efforts and effective program execution operations effecting outstanding growth, development and profit results.
About Persistent Systems, LLC
Headquartered in New York City since 2007, Persistent Systems, LLC is a global communications technology company that develops and manufactures a patented and secure Mobile Ad hoc Networking (MANET) system: Wave Relay®. Wave Relay® transmits and receives data, video, voice and other applications under the most difficult conditions. Their suite of products is utilized in Commercial, Military, Government, Industrial, Agriculture, Robotics, and Unmanned Systems markets. Please visit https://www.persistentsystems.com to learn more. Follow Persistent Systems on Twitter to get updates on the latest developments @pswaverelay.
# # #