Wave Relay® MANET creator to expand partnership with Canadian Department of Defence (DND) through $1 million repair and overhaul contract award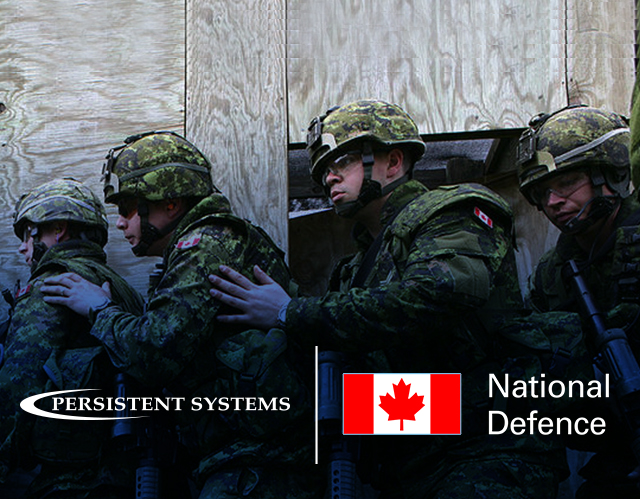 September 20, 2017
New York, NY – Persistent Systems, LLC ("Persistent"), a leader in Mobile Ad hoc Network (MANET) Technology and developer of Wave Relay®, has been selected to provide systems operation, sustainment, and support services for the Canadian Department of National Defence's (DND) existing Wave Relay® products. The repair and overhaul contract contains options that, if exercised, extend the contract term through March 2024 with a potential total value to Persistent of $1 million.
"Providing support to the Canadian Department of National Defence is a privilege for Persistent, and we look forward to growing this partnership during the coming years," said Leslie Hulser, Persistent's Director of Programs.
The work Persistent performs under this contract will optimize overall Size, Weight, Power and Cost (SWaP-C) of Canada's deployed systems, incorporate new applications, and provide additional functionality in the field. "We will increase the potential of DND's existing infrastructure," Hulser explained, "by improving Wave Relay®'s performance for DND deployments both across Canada and around the world."
Work will begin on the repair and overhaul contract immediately. The work will be performed out of Persistent's New York City facility.
About Persistent Systems, LLC
Headquartered in New York City since 2007, Persistent Systems, LLC ("Persistent") is a global communications technology company which develops, manufactures, and integrates a patented and secure Mobile Ad Hoc Networking (MANET) system: Wave Relay®. The company's R&D team has designed wireless networking protocols to support their cutting-edge Wave Relay® system and technology. Wave Relay® can transmit and receive data, video, voice and other application data under the most difficult and unpredictable conditions. Persistent's suite of products is field proven and utilized in Commercial, Military, Government, Industrial, Agriculture, Robotics, and Unmanned System markets.
Please visit https://www.persistentsystems.com to learn more. Follow Persistent Systems on Twitter to get updates on the latest developments @pswaverelay.